London 2012 Olympics: Floating walkway plan for Thames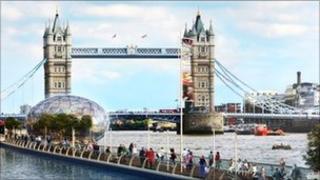 A kilometre-long floating river walk is planned for the River Thames in time for the Olympics.
The scheme, backed by £60m of private investment, would provide a 12m (39ft) wide floating pontoon in the City of London from Blackfriars Bridge.
Eight themed pavilions are proposed which would showcase London.
The award-winning London River Park design is now being submitted to the City of London Corporation for consideration.
It is being backed by private companies who have signed an agreement with Mayor of London Boris Johnson that would see 30% of revenues raised going to the public purse.
Mr Johnson, said: "The sheer beauty and design brilliance of this structure will provide yet another amazing attraction for the capital.
"However, we will proceed sensitively to ensure that one of the most famous and cherished waterfronts in the world is enhanced for the benefit of our great capital."
Baroness Jo Valentine, chief executive of independent business group London First, said: "Having won the mayor's overall award at the London Planning Awards, the question was always could the River Park become a reality?
"There's still work to do, including planning consents, site surveys and construction - but the River Park has the potential to be an iconic new feature in the heart of London."
Initially the walkway would be given permission for a set period, as the London Eye was.
However this could later be extended.
A twisting metal tower designed by artist Anish Kapoor has already been given the green light to coincide with the games.