Westminster Council homeless soup run ban watered down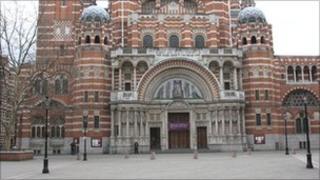 Westminster Council says soup runs for the homeless can continue if organisers cooperate with the authority.
The Conservative-run council had threatened a byelaw banning the soup runs, saying they cause litter and disturbance.
Following a consultation, it offered a compromise and cut part of the byelaw that would have barred rough sleepers from parts of Victoria.
Labour called the decision a "tremendous victory".
The rough sleeper ban was dropped after a consultation showed widespread opposition.
A total of 272 people voiced objections to the council's wider plans.
Some 167 were in favour, although the council says a majority of local people backed the plans.
Councillor Daniel Astaire said: "Understandably, the consultation sparked a great deal of public debate.
"The first thing it made clear is that a ban on rough sleeping would not be widely supported.
"Such a ban would be very difficult to enforce and would be a less effective means of achieving our aims."
He continued: "We acknowledge that soup run volunteers have the best possible intentions but the way they chose to put those intentions into action has been problematic.
"However, we now ask soup run volunteers to work in alternative ways to support rough sleepers.
"Depending on the outcome of these discussions it might, regrettably, still be necessary to pursue the legislative route."
Among the council's proposals are a plan to allow soup run operators to use existing facilities to provide a nighttime service.
'Folly of proposals'
It said if this meant a reduction in the total number of outdoor soup runs these could be permitted with regulation.
The council also suggested that its outreach workers accompany soup run organisers.
Paul Dimoldenberg, Labour leader in Westminster, said: "It is a tremendous victory for all those campaigners who pointed out the folly of the proposal to criminalise rough sleepers and those who help them."
Of the soup runs, he added: "The threat has been lifted and they are more willing to sit down and talk with organisers."