No charges for Pete Doherty over Mark Blanco flat death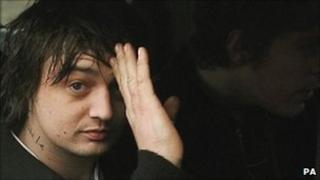 Singer Pete Doherty will not be charged over the death of an actor at a party in east London in 2006.
Mark Blanco, 30, suffered fatal head injuries when he fell from a balcony at a first-floor flat in Whitechapel.
Investigations showed Doherty, who has denied any wrongdoing, was involved in a confrontation with Mr Blanco shortly before his death.
The Crown Prosecution Service (CPS) said there was insufficient evidence to charge anyone over Mr Blanco's death.
His family are understood to have reacted furiously when told it could not be established that a criminal act had taken place.
They launched a campaign after two police reports and an inquest failed to establish exactly what triggered Mr Blanco's fall.
'Thrown or pushed'
Scotland Yard's initial probe found Mr Blanco jumped deliberately, but a coroner ordered a second independent investigation after recording an open verdict at the inquest.
Officers then found that either Mr Blanco committed suicide or fell because of a "criminal act", but could not say which.
Doherty was questioned but never arrested in connection with the investigation.
Investigations revealed Mr Blanco was involved in a row with Doherty, his minder Johnny Jeannevol and writer Paul Roundhill at the party shortly before his death.
All three have denied any wrongdoing.
The findings of the family's own investigation were handed to police in July last year.
It included a study by neurobiology expert Professor Richard Wassersug that suggested Mr Blanco's head injuries were not consistent with him having deliberately jumped.
Jenny Hopkins, from the CPS, said: "None of the evidence is capable of establishing to the required standard that Mr Blanco was thrown or pushed from the balcony or that any other individual was present at the time he fell."
She said any further evidence that came to light would be reviewed as with any case.
"We have met the family of Mr Blanco today to explain our decision to them and we would like to extend our sympathies to them on their loss," she added.