Met Police to use Jean Charles De Menezes death bullets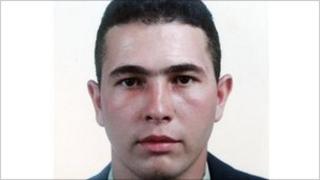 The Metropolitan Police is to issue all its firearms officers with the type of ammunition used to kill Jean Charles De Menezes.
Hollow point bullets flatten and widen on impact, causing maximum damage to vital organs.
The Met says the round is less likely to splinter, harming bystanders.
Mr De Menezes, a Brazillian falsely identified as a suicide bomber, was shot dead in 2005 with hollow point bullets.
'Comprehensive testing'
After it emerged he was killed with the ammunition, cousin Alex Pereira said: "I am shocked and angry. I had no idea.
"How can the police in the UK use bullets that the Army is not allowed to use?"
The ammunition was previously chosen to be used on suspected suicide bombers because it has the best chance of killing them before they can set off a device.
Hollow point bullets are prohibited to the public.
Former US mayor Rudolph Giuliani faced sharp criticism when he tried to bring in the ammunition in New York in the 1990s.
All 3,000 Metropolitan Police firearms officers will now be issued with 9mm hollow point rounds.
Police said the hollow-point bullets had undergone the "most comprehensive" testing process ever undertaken by them.
Commander Jerry Savill, head of the firearms unit, said the research on ammunition would be made available to all other UK police forces but he said it would be up to them which bullets were used.
David Dyson is a barrister and ballistics consultant.
Asked whether the rounds were unsurvivable, he said: "Yes. They don't use these bullets in the anticipation that people will survive.
"They expand, so you get the mushroom effect when the bullet hits the body.
"Much more energy is being imparted into the victim."