Tube strike: Common sense prevails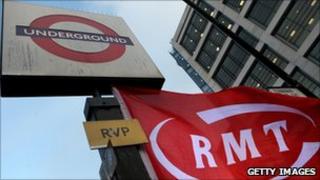 After an entire afternoon of claim and counter claim, and what looked to outsiders like point scoring, finally at 1730 BST on Tuesday the National Union of Rail, Maritime and Transport Workers (RMT) announced next week's strike was suspended.
On the surface it looks like the union has got what it wanted in its dispute with London Underground (LU) and common sense has prevailed.
It does speak volumes, though, about relations that both sides can't agree when to announce that a deal has been done.
The sacked driver Eammon Lynch had admitted he had made a safety error and has been re-instated in a different role and LU says it reacted to the findings of his tribunal NOT the threat of strike action.
As we reported on Monday, the findings from the tribunal were extremely critical of LU. The second case will be discussed at a later date.
What's interesting is what looks like a change in tone from London's Mayor Boris Johnson.
He said: "It is right for London Underground management and the unions to strive to achieve a more constructive, long-term engagement and I wish to encourage that.
"The capital is rightly fed up with pointless, futile and destructive strikes."
This is the day after mayoral advisers said about the strikes: "Without a change in the (employment) law there is a limit to what we can do."
It does seem the mayor and his team are now attempting to reach out to the unions.
If that's true it indicates they appreciate how important it is to have a constructive relationship with the unions in the run up to the mayoral elections and the Olympics.
If there are strikes going on, then it will dominate the agenda.
Let the negotiations now begin over pay and, after Network Rail got £500 and 5%, Tube workers will want a similar deal. Olympic inflation?