London Selfridges removes 70 endangered fish varieties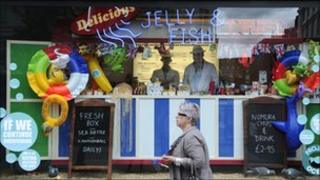 At least 70 endangered fish varieties and products will be permanently removed from Selfridges in London.
The store's pledge came as it launched Project Ocean with the Zoological Society of London (ZSL) to raise awareness about marine conservation.
The month-long project will ask shoppers to consider the prospect of "no more fish in the sea" by 2050.
The Oxford Street store has removed the endangered fish species from its food halls and restaurants.
The store will provide customers with a 'Fish Guide' to urge customers to rethink their food habits and suggest alternatives, such as coley and pollack, for species under threat.
Jonathan Baillie, director of ZSL, warned that 85% of fisheries were under threat and just 1% of the world's oceans were protected.
He said: "85% of fisheries are fully or over-exploited and if we look forward to 2050, if current trends continue, it's likely that all the world's major fisheries will have collapsed.
He added he hoped the "retail activism campaign" would engage the public on the issue of over-fishing.