Harrow school's cornrows hairstyle ban 'is unlawful'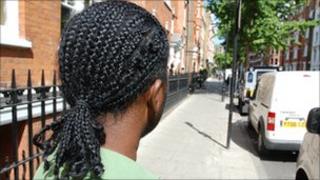 A pupil is taking a London school to the High Court, arguing its ban on "cornrows" hairstyles is unlawful.
The boy, G, who cannot be named for legal reasons, was barred from St Gregory's Catholic Science College in Harrow, north London, over his haircut.
G's mother said the black child - aged 12 at the time - saw his braids as "of great importance to his cultural and racial identity".
The school has argued hairstyles could be badges of gang identity.
The school said it did not regard cornrows as specifically gang-related, but claimed that allowing them would make it harder to exclude other styles such as the skinhead cut.
But David Wolfe QC, the family's counsel, said the school's position was legally flawed.
He argued the school's stance breached both race and sex discrimination laws.
Girls at the school are permitted to wear cornrows.
Angela Jackman, G's solicitor, of law firm Maxwell Gillott Solicitors, said in a statement: "The school relies on its view of what constitutes a conventional hairstyle for boys, but disregards the cultural values and norms of the community it serves.
'Highly successful'
"Its blanket policy breaches current equality legislation, specifically on race and gender grounds."
In court the school was called a "highly successful, hugely oversubscribed" institution which achieved excellent results, including from its black pupils.
It is yet to set out its case in detail before the court.
G, now aged 13, now attends another school.
The case continues.