Olympics: RMT union says rail pay deal 'groundbreaking'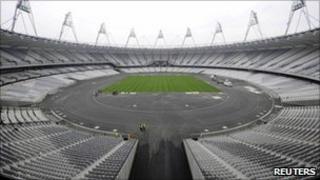 Rail unions have agreed what they call a "groundbreaking" deal with Network Rail, which secures pay rises and other conditions during the 2012 Olympics.
Some 10,000 workers will get a pay rise of around 10% over two years and some will get extra shift payments during the games, in the joint RMT-TSSA deal.
No staff can be dismissed during the games and disputes will be fast-tracked or suspended until September.
Network Rail said it was "great news" and the RMT called it a "good deal".
The deal states that both sides agree the "smooth running of the Olympic Games is in the national interest and all parties will take every measure possible to avoid industrial action during this period".
But the agreed wording also recognised that it was "management's right to manage and the trade union's right to withdraw their members' labour".
Rail, Maritime and Transport union general Secretary Bob Crow said: "This is a groundbreaking offer. The package recognises the important role that transport workers will be expected to play during the games and rewards them financially, while protecting their union rights at the same time.
"At this time of austerity we think that £500 extra payments and 10% on the basic represents a good deal and proves that strong union organisation can deliver for the members," he added.
Network Rail chief executive David Higgins said the agreement, reached after several months of negotiations, was "great news for the millions of people who will use the trains to enjoy the Olympics".
"Travellers get certainty that their journeys won't be disrupted by industrial action during the games and our people get a fair deal linked to inflation and recognition of the vital role they'll play in making this once-in-a-lifetime event a success," he said.
The deal sees signalling and clerical workers being awarded a 5.2% basic pay increase, backdated to January 2010, for this year, and an increase of RPI plus 0.5% in 2011/12.
Travel subsidies will also be improved, and an "Olympic premium payment" of £3.50 per hour will be paid to those staff whose duties are changed during the Olympics and Paralympics events. It is estimated this will total around £500 for each of those affected.
The agreed approach to disputes during that time is that between 1 July and 15 September 2012 Network Rail will refrain from dismissing any staff but would, if necessary, suspend employees on full pay until the end of the period.
Any non Olympics-related disputes that are unresolved by the time of the games, or arise during them, will be automatically referred to conciliation service ACAS.
It adds that while most staff will not be required to change their duties for the Olympics, a "fast-track mechanism" would be created for dispute resolution where it is directly connected to working over the games.
Meanwhile planned strikes by Tube workers have been called off, London Underground said. The first in a series of strikes, over a row about the sacking of two drivers, had been due to start on Monday 16 May.
This latest Network Rail deal covers rail infrastructure workers, but not train operating companies or London Underground workers.