SlutWalk march planned for London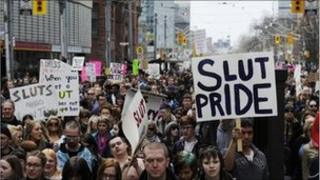 A protest movement sparked by a Canadian police officer's advice to women to "avoid dressing like sluts" is coming to England.
The SlutWalk march in London, starting in Trafalgar Square, is being planned for 4 June.
Thousands of people have taken part in such marches across the US and Canada.
Organisers say the aim is to highlight a culture in which the victim, rather than rapist or abuser, is blamed.
'Reaction shows relevance'
The Facebook page for SlutWalk London already has more than 3,500 people registered to take part.
Student Anastasia Richardson, 17, who is organising the SlutWalk in London, said that the movement clearly relates to people in Britain.
She said: "I think the reaction shows how relevant it is, especially in Britain where only 6.5% of rape cases end in convictions - and that's the ones we know about."
About 3,000 people took part in the first SlutWalk in Toronto last month and 2,000 people took part in a SlutWalk in Boston on Saturday.
The movement started after police constable Michael Sanguinetti, who had been giving a talk to a group of students in Toronto, made his remarks.
"You know, I think we're beating around the bush here," he reportedly told them.
"I've been told I'm not supposed to say this - however, women should avoid dressing like sluts in order not to be victimised."
'Raise our voices'
He has since apologised and has been disciplined by the Toronto police. He is still on duty.
The SlutWalk London website said it wants to end a culture of fear and victimisation.
"Let's raise our voices and tell the world that rape is never, ever OK," the website says.
"Not if she was wearing a miniskirt. Not if she was naked. Not if she was your wife, girlfriend or friend. Not if she was a prostitute. Not if she was drunk. Not if you thought she wanted to."