'No arsenic in genuine holy water', Saudis say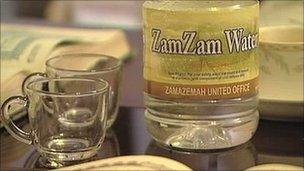 The Saudi Arabian embassy in London has said there is "no arsenic" in Zamzam water from the country, which is considered sacred to Muslims.
The comments come after BBC London found samples from the source in Mecca contained "high levels of arsenic".
The embassy said the water was tested in March and added: "There is no arsenic in genuine Zamzam water."
Zamzam water is taken from a well in the holy city of Mecca and is not exported for commercial use.
The BBC asked a pilgrim to take samples from taps which were linked to the Zamzam well and to buy bottles on sale in Mecca, to compare the water on sale illegally with the genuine source.
A BBC investigation discovered "Zamzam water" was being sold by Muslim bookshops in Wandsworth, south-west London, and Upton Park, east London, as well as in Luton, Bedfordshire.
Tests on the BBC samples from Mecca showed high levels of nitrate and potentially harmful bacteria, and traces of arsenic at three times the permitted maximum level, just like the illegal water which was purchased in the UK.
Looking at the results Dr Duncan Campbell, president of the Association of Public Analysts, said: "The water is poisonous, particularly because of the high levels of arsenic, which is a carcinogen."
In response to the report a spokesman for the Saudi embassy said: "Zamzam water from the Zamzam well in the Holy City of Makkah, Saudi Arabia, is not contaminated and is fit for human consumption.
"The water was analysed and tested in March this year by the Group Laboratories of CARSO-LSEHL in Lyon, which is licensed by the French Ministry of Health for testing drinking water.
"The March report said: 'According to drinking water standards in France and based on the analysis conducted on the samples of Zamzam water, this water is fit for human consumption."'
The spokesman added that "pure" Zamzam water was collected, bottled and distributed by King Abdullah ibn Abdulaziz's Zamzam project, which was supervised by the Saudi Ministry of Water and Electricity.
The spokesman added that Zamzam water was not exported to the UK and "anyone engaged in the trade of selling water here would come under British jurisdiction".
"The Embassy wishes to make it clear that any writing on a bottle of water suggesting that it comes from the Zamzam source is not proof that the water is genuine."
Related Internet Links
The BBC is not responsible for the content of external sites.