Millions awarded to London "biking boroughs"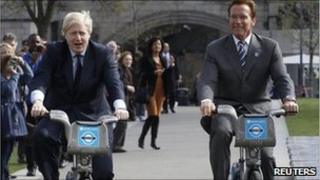 More than £4m has been awarded to 13 London "biking boroughs" to improve routes for cyclists.
The councils made bids for funding after pledging to put cycling at the heart of their local transport plans.
The money will be used on various schemes to improve safety for cyclists, by installing more bike lanes and other cycling infrastructure.
This comes as the mayor of London is under pressure from the European Union to lower pollution levels.
Mayor Boris Johnson has said that increasing the number of cyclists across London is one of his priorities, and he introduced a bike hire scheme across the capital last year.
'Cycling revolution'
Croydon has now been awarded £450,500 - the largest amount given to any of the councils.
Barking and Dagenham, Bexley, Havering, Redbridge, Brent, Ealing, Haringey, Hillingdon, Hounslow, Bromley, Kingston and Merton also received funding.
Mr Johnson said: "My cycling revolution continues and I am determined to help more residents of outer London to take to two wheels.
"The funding I am committing to the biking boroughs will enable them to make the physical improvements that will make cycling safer and more convenient for local people."
Pollution levels in the capital were recently reported to have reached an eight-year high.