More Tube strikes: RMT or TfL, who will blink first?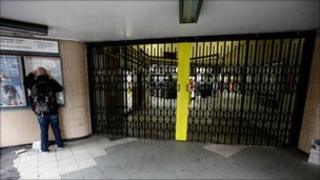 Six days of strikes is certainly a statement of intent from the RMT Union.
While this is a separate dispute of two drivers being dismissed - it has its roots in the previous dispute over ticket office opening hours.
One was sacked after an "operational incident" and another for what the RMT call "trumped up charges" by "strike breakers".
RMT General Secretary Bob Crow said:
"It is the abject failure of London Underground to recognise that their policy of victimisation of union activists has been well and truly rumbled... that has left us with no choice but to name these dates for strike action."
About the two drivers, TfL says one was dismissed for an alleged serious safety breach and the other for allegedly using abusive behaviour.
Mike Brown, TfL's managing director, said:
"Just 29 per cent of the 1,300 drivers balloted voted for this strike. We know that the vast majority of drivers work safely with the utmost respect for passengers and their fellow workers at all times."
What exactly happened is now subject to an industrial tribunal.
How much disruption will it cause? My guess is it will be similar to the last dispute.
Half of Tube drivers are not RMT members so like last time up to 50% of trains could run. However, unlike last time more stations could be open as the TSSA union are not out.
It's also worth bearing in mind that because the strikes are in blocks of three days then any disruption will be considerable.
Tube bosses have indicated they won't back down on this.
So, it all depends on how many staff cross picket lines. Industrial relations are poor at the moment.
I've mentioned before that grassroots activists say the Olympics could be a target for more strikes.
What chance of talks sorting this out? Let me know your thoughts.