'Stranger' fear on walk to school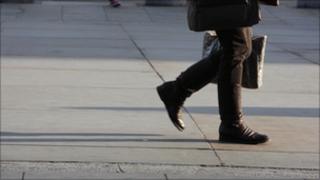 Fear of strangers puts nearly half of London children off walking to school, a survey suggests.
A total of 48% of London's children said "stranger danger" was a concern - higher than the national average of 39%.
Children from Wales were the least fearful of strangers - with 30% saying it put them off walking to school.
Charity Living Streets asked 2,000 children aged between 7 and 14 what factors put them off walking to school.
Bullying fear
One in five children from London who were questioned said they were frightened of being bullied.
Children in London and Yorkshire feared bullying more than anywhere else in the United Kingdom, the survey showed.
Scotland's children were least fearful of bullying - with only 11% saying it put them off walking to school.
Meanwhile, seven in 10 children in London said children were put off walking to school because they thought it was "too far away", yet two-thirds of children lived within a 20 minute walk of the school gates, research showed.
Living Streets chief Tony Armstrong said: "We believe that every school and every local council needs to invest in cost-effective schemes such as these to get our children out on the street, healthy and active."