Public urged to help count London's kestrels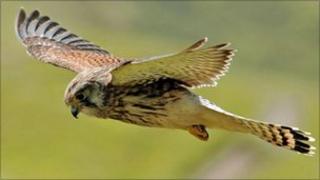 Londoners are being asked to help count kestrels so that their population and where they live can be established.
The kestrel population declined during the 1990s so the survey will allow the London Wildlife Trust to get a better idea of their numbers now.
The Trust launched its first kestrel count in 1988.
It wants to know if kestrels are still seen at tourist hotspots, whether they have found new places to visit, or are in decline.
'Future survival'
In the original survey in 1988, kestrels were seen at some iconic tall buildings including the Tower of London, Palace of Westminster, St Giles Church in Covent Garden and at the Barbican.
They were spotted in every London borough with an estimated total of 400 pairs nesting in the capital.
Mathew Frith, deputy chief executive officer of London Wildlife Trust, said: "We hope as many people as possible will contribute to our Kestrel Count 2011.
"Their presence in London is indicative of the quality of natural habitats we have, especially grasslands and brownfields, and if they are in decline it will highlight what measures we need to take to ensure their future survival."
The kestrel count is being carried out to celebrate the Trust's 30th anniversary.