Brixton Windmill reopens after restoration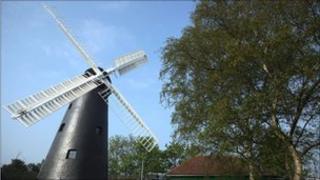 Brixton Windmill has reopened to the public following a five-year restoration project.
The Grade II-listed Ashby Mill, as it was formerly known, was built in 1816.
It was still a working mill in the early 20th Century but fell into disuse in 1935 following the death of Joshua Ashby, grandson of the original owner.
The windmill, which underwent a £581,000 restoration programme, is situated in Windmill Gardens in Brixton, south-west London.
'Absolutely fabulous'
Streatham MP Chuka Umunna MP and ward councillors officially opened the mill at 1515 BST.
The opening ceremony, which was preceded by a parade and walk at Windrush Square at 1400 BST, featured bands, a theatre performance, and other entertainment.
Jean Kerrigan, chair of the Friends of Windmill Gardens, said: "We've been working since 2003 for this day and it's all now come together and the mill is looking absolutely fabulous.
"It's been repainted, refurbished inside, all the workings have been polished, oiled, painted and made to work properly and it's really looking glorious."
Guided tours of the windmill are due to take place from 1545 BST.
The restoration was funded by a grant of £397,700 from the Heritage Lottery Fund plus extra money from Lambeth Council and the Friends of Windmill Gardens.
The windmill will now be able to begin production once again grinding locally sourced and grown wheat and barley.