Republicans label royal wedding 'PR stunt'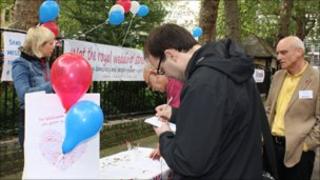 As thousands gathered in central London to cheer as Prince William and Kate Middleton tied the knot, several hundred people chose to stay away from what they labelled a "royal PR stunt".
Instead, they attended a "Not the Royal Wedding" street party organised by Republic, a group which hopes Britain will abolish the monarchy "in our lifetimes".
The party in Red Lion Square in Holborn had union jack bunting, red, white and blue balloons, music, merchandise and Republic membership forms.
The party was relocated after Camden Council denied the group permission to hold it in Covent Garden.
There were several stalls where people could "Buy an Honour" and choose to become a Dame or be knighted for a fee, or write messages to go into a time capsule to be stored by the group for the "future British republic".
'Making people stupid'
Some left messages in a royal wedding card which wished the royal couple well but said: "We oppose your right to inherit public office."
Several party-goers appeared in fancy dress costumes - one supporter was dressed as a dog while republican Richard Rose, 30, from Southampton, came as the Pope for an "educational day".
Another in attendance, Mary Macmillan, came with badges proclaiming her anarchist and communist beliefs and a handbag with a hare to affirm her anti-hunting credentials.
Graham Smith, campaign manager of Republic, said: "It's a street party designed to put us on the map... and to say that the whole country is not sort of in rapture over the wedding.
"There is no such thing as a modern monarchy. It may look good in glossy magazines but I don't think it's going to have a long-term impact in the opinion of the monarchy.
"There's a lot of spin and hype and PR and as they get settled into married life it's going to look the same as it has always been. And Kate is not a commoner, there is no such thing, we are all the same as each other."
Republican groups from Sweden, the Netherlands, Denmark, Norway, Scotland, Spain and Belgium, who will hold a convention of Alliance of European Republican Movement on Saturday, were also present.
The pan-European group was formed last June during the wedding of Princess Victoria of Sweden in Stockholm.
Philipp Bekaert, chairman of Belgium's Republican Circle, said the "dreadful" hype over the wedding was aimed at "making people stupid".
"I can understand that people like the romantic aspect of it but it's always very dangerous to bring the romantic aspect - that fairytale aspect - into politics because politics is something very serious and it's not for fairy tales," he said.
'Dragged' to party
Mother-son duo Jan and Kyle Plumridge said they came down specifically for the party from Harlow, Essex.
Mr Plumridge said: "I wish them well (but) I don't think it should be beyond criticism at all."
Ms Macmillan, 75, who said she was an anarchist from Soho and was protesting against hunting, said: "Social climbers are attracted to the royals.
"The Queen's a wonderful person but once she goes, off with their heads!"
But not every anti-monarchist was happy to be at the Republic party.
Gabriel Millard-Clothier, 11, of Islington, north London, who came with his father Pip Clothier and six-year-old brother Lucien, said he was not happy to be "dragged" to the street party by his father.
"I wanted to stay at home and watch the wedding because it is a world-wide event. But I don't believe in monarchy."
Organisers estimated that later on the event had attracted about 400 people.
The royal wedding resulted in a "huge surge" in Republic's membership since the announcement of the couple's engagement in November - going up from 7,000 registered members to 15,000, Mr Smith said.
"In the last 48 hours our Facebook page has gone up by a few thousand. We have never been so busy," he added.