Street parties: measuring London's royal wedding gusto?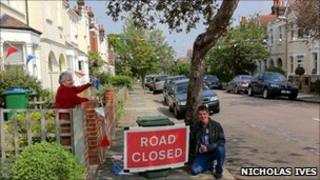 With hours to go until the royal wedding, street party organisers across London are putting final and frantic touches to their decorations and knocking on doors with the last round of invites.
About 850 street parties are being held in London but the visible signs of enthusiasm at Prince William and Kate Middleton's nuptials vary across London.
Richmond, on the western end of the District Line, will host 85 parties - the most in London. Barking and Dagenham, located at the eastern end of the route, has not received any official applications.
Richmond has become the "hottest spot for royal wedding street parties in the capital", Lord True, leader of the Richmond Council, said.
"When you consider our population we will probably have more parties per resident than anywhere else in the country," he added.
Republicans and royalists
Nicholas Ives, 48, who is organising a party in Martindale, Richmond, is expecting 100 residents to turn up. They contributed £1,500 for the party.
"We started thinking of it in February. We thought it will be a good use of the occasion to celebrate 100 years of the street and the royal wedding. It's for both republicans and royalists."
On Barking High Street bunting and promotions were visible in some shop fronts and pubs to attract customers.
But the council said the absence of applications for street parties did not mean people lacked enthusiasm.
"Barking and Dagenham Council has not had any applications to close streets for royal wedding parties, although there are a number of events happening across the borough.
"However, because of limited funds brought about by the scale of government cuts we are not able to provide funding for royal wedding parties."
The council gave a £450 grant for St George's Day street parties resulting in 12 events.
Funding 'affected celebrations'
Barking and Dagenham Volunteer Bureau decided to celebrate both events on St George's Day using the council grant.
The guests, 30 elderly and disabled people who live alone, were handed goody bags containing commemorative plates and key rings emblazoned with images of the soon-to-be-wed couple.
Lynne Hopkins, the charity's volunteer coordinator, said the hall, the bags and the transportation for guests were donations.
"The party was actually for St George's Day but we combined it for the royal wedding and Easter. We were lucky enough to get funding."
Mickey Lincoln, from Strattons Tenants' and Residents' Association, said they have invited 258 families in the estate to join them in the community hall on Friday.
The group received a £885 grant from the area's Tenants' and Residents' Association.
"Everyone else had done something for St George's Day. We could only do one thing so we decided to go with the wedding.
"There are so many restraints and cuts on councils, this has affected the celebrations."
Labour councillor Darren Rodwell, a member of Reede Road Tenants' and Residents' Association, said he and three other councillors representing Albion ward decided to foot the £400 bill for a party for 160 residents "because the council would not support the TRA to move the funding for St George's Day to the royal wedding".
'Cockney knees-up'
"I know that the community wanted to do something to celebrate it."
They plan to watch the wedding on a large screen in a church hall and end the party in the "true East End fashion with a right old Cockney knees-up, singing all the old East End songs".
Michelle Moon, 35, a barmaid in the Spotted Dog in Barking High Street, was born in Ilford and has always lived in Barking.
Her pub is decked in wedding-themed bunting but Ms Moon said the absence of street parties showed "there's not much community spirit any more".
"It is sad. He's our future king isn't he."
Mr Rodwell added: "Barking and Dagenham is a deprived borough and people here might celebrate as much as other boroughs, but maybe in their homes and back gardens and cul-de-sacs."