Royal wedding fans to arrive at Clapham Common campsite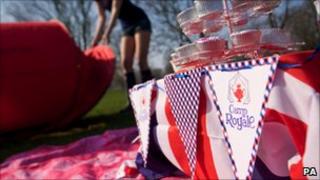 Royal wedding fans are arriving at Clapham Common for the start of a three-day event to celebrate Prince William and Kate Middleton's big day.
Organisers are turning the south London common into a campsite for three nights.
A giant television screen and free tea is planned for the thousands of revellers expected to turn up.
But a conservation group said it has concerns about how the event might affect the common.
Organisers Camp Royale said it is "expecting up to a couple of thousand of people" to camp out - at a cost of £75 per person for three nights.
The organisers have also created a "glamping" zone for luxury campers with 18ft (5.4m) tipis available equipped with sheepskin rugs and tables, for a minimum of £1,100.
The campsite will have 24-hour security, hot showers, toilet facilities, a quiet zone and a family zone.
A spokesman for Lambeth Council, which approved the idea, said that the campsite will take up less than 10% of the entire common.
"A deposit has been taken from the organisers in the unlikely event of any damage caused and to help with the clean up," a council statement said.
The council said free entertainment offered for adults and children - including coconut shies, facepainters and live music - will allow locals to enjoy the wedding in a memorable way.
Last month, south London MP Chuka Umunna said he had "deep reservations" about the event and that he did not want to see Clapham Common "turned into a Glastonbury-style venue".
Vice chairman of the Friends of Clapham Common Fred Uhde said the conservation group would try to resist the event in every way it can, but they can not afford legal action against the council.
"The Friends of Clapham Common are concerned about the protection of the common from encroachment," he said.