London council charges fitness trainers to use parks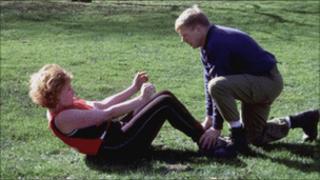 A west London council has introduced a charge of £350 a year to fitness trainers who wish to use its parks.
The fee was introduced by Hammersmith and Fulham council in April, costing personal trainers £29 per month to use its 48 parks and open spaces.
The Tory council said this "would be recouped immediately, as most trainers charge about £50 per hour".
But Chrissie Gallagher-Mundy, director of London Academy of Personal Fitness, said: "It don't think it's fair."
"Shouldn't parks be free to the public? It will put the cost of training up for the people who use trainers.
"It's a step away from charging people to use roads to run on."
'Free ride'
The council said parks police would regularly be on patrol to check fitness instructors had the required licence.
Conservative councillor Greg Smith, cabinet member for residents' services, defended the fee, saying: "Taxpayers do not expect businesses who are trying to make money out of our parks to get a free ride on the back of their taxes and these businesses do need to pay for the necessary licence.
Meanwhile, Christine Melsom from the 'Is it fair' campaign to reform council tax, said the charges were "a bit mean".
"If people are running around, I really can't see how the council can install a tax like that.
"How many people will say they are friends rather than personal trainers?" she asked.
But a council spokeswoman said: "This is about ensuring residents using the park are safe, as there are issues surrounding insurance and liability should anyone be injured, and also the parks have to be maintained.
"If trainers were to hire space elsewhere in a club, for example, they would spend much more than if they bought a licence."
Meanwhile, the council has introduced a charge of £1,200 per year to large commercial sports organisations wishing to use its parks.