Man, 60, arrested over Isobel Reilly's party death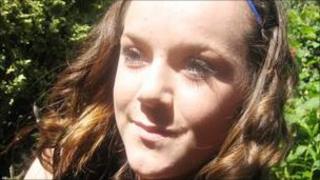 A 60-year-old man has been arrested after a 15-year-old girl died within hours of being taken ill at a party.
Isobel Reilly became unwell at a house in Barlby Road, north Kensington, west London, in the early hours of Saturday.
Her death is being treated as "unexplained", but police are examining whether she died after taking drugs.
A man, understood to be university academic Brian Dodgeon, was arrested on suspicion of possession of drugs and child abandonment. He was later bailed.
Mr Dodgeon, who is not thought to have been at the party, is believed to be a research fellow at the University of London Institute of Education.
A 14-year-old girl and two boys, also 14, who were at the party were also taken to hospital as a precaution. They remain in hospital under observation.
Hospital treatment
Police were alerted by London Ambulance Service at about 0410 BST on Saturday.
Isobel, from Acton, west London, was taken to hospital but died later that morning.
Det Sgt Neil Philpott, of the Metropolitan Police, appealed for fellow party goers to come forward with information.
He said: "We believe the victim was taken ill during a party at the address in Barlby Road.
"We are yet to make contact with all those who attended and would ask anyone who was present at any point during the evening to make contact with officers."
'Dreadful event'
Asked whether drugs were involved in Isobel's death, a Metropolitan Police spokesman said: "This is a line of inquiry. We await the results of the post-mortem examination."
In a statement, Isobel's family said: "Isobel's family and friends are devastated and heartbroken by her untimely death. We hope that if anything positive comes from this dreadful event, it is that others will make the right decisions to be safe and well in the future.
"We would very much appreciate time to grieve for our beloved Issy in private. If anyone has any information concerning Issy's death could they please contact the police."
Tony Ryan, head teacher of Isobel's school, Chiswick Community School, said: "Isobel was an extremely popular girl at our school and counted many of her fellow pupils as friends.
"Her tragically early death is devastating news to everyone associated with the school and all our thoughts are with her family at this time."
Hundreds of mourners were expected to attend a memorial in Chiswick, later on Monday, marking Isobel's life.
Mr Dodgeon, whose research subjects have included health inequalities and alcohol consumption patterns, was bailed until June.
Professor Chris Husbands, the Institute of Education director, said: "My senior team and I will be meeting tomorrow (Tuesday) morning - we have a routine, scheduled senior team meeting anyway - to make appropriate decisions on the way we will proceed."