Royal wedding: London street party applications made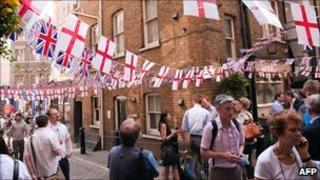 More than 850 applications have been received to hold royal wedding street parties in London, the Local Government Association has said.
Richmond had 85 requests for events - more than any other borough - followed by Wandsworth, Newham and Bromley.
No applications were submitted in Barking and Dagenham, while the City of London said residents in the Barbican could hold parties without a licence.
About 5,500 party requests were made across England and Wales for 29 April.
Some of London's boroughs issued information packs to help residents wanting to stage events.
In Newham, for instance, people could apply for grants of up to £1,000, as well as free flags and bunting.
Two local authorities said they did not receive any applications.
Barking and Dagenham said no requests were submitted but it was aware some residents might organise private events in community halls.
The City of London Corporation said it had only 8,000 residents, most of whom lived on the Barbican estate, where no permission was required for street parties.