Bikers lose central London parking charge appeal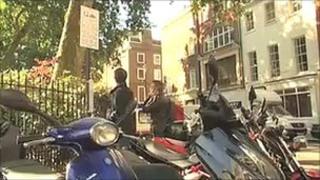 Motorcyclists calling for a £1-a-day parking charge for bikes in central London to be scrapped have lost their appeal against Westminster Council.
The council made the on-street charges permanent in January 2010 following a pilot scheme in August 2008.
The "No To Bike Parking Tax" (NTBPT) campaign went to the Court of Appeal after the High Court backed the charge.
The appeal judges said the charge was justified as it was "an obvious way to dampen excess demand".
'Not over yet'
Ruling in the case, Lord Justice Maurice Kay, sitting with Lady Justice Smith and Lord Justice Moore-Bick, said: "It is common ground that increasing demand, if evidentially well-founded, would justify charging.
"It is the obvious way to dampen excess demand."
Following the decision, Warren Djanogly from the bikers group, who took the case to the court, said: "We are hugely disappointed, but it is not over yet.
"We are now thinking of taking our case to the European courts where we expect to get a fairer hearing."
Councillor Lee Rowley, Westminster's cabinet member for parking and transportation, said the authority's decision to charge bikers for parking had been "rigorously scrutinised" and debated.
"We have always maintained that with huge demand for on-street space in Westminster, charging motorcyclists a small sum to park was reasonable and fair and I'm glad the judge has once again reiterated this."
Weekly protests
He added that the case was not about "the council versus motorcyclists" and hoped that the court's judgement "will now put an end to any doubt about the legitimacy of our motorbike parking policies".
The campaigners were ordered to pay the council's legal costs and were refused permission to appeal to the Supreme Court.
Last July the High Court backed the council's decision to charge a fee for parking.
Westminster Council had argued that there were about 900 free spaces in car parks, but campaigners said a decision for the council could signal the end to free parking for all motorcyclists.
Dr Leon Mannings, a transport policy adviser to the Motorcycle Action Group, said that key issues had not been adequately addressed in the judgement.
"First, is that UK council responses to demand for parking scooters and motorbikes should be more like those for bicycles than cars.
Call for support
"Secondly, the extent to which the whole consultation process was skewed by a fundamental change in the official reasons for a permanent version of the scheme has not been properly considered by either the High Court or the Court of Appeal, in my opinion."
Since the levy was imposed motorcyclists have held weekly demonstrations around Trafalgar Square which the council said were attempts to "paralyse" central London.
Parking charges for bikes in Westminster range from £1 a day up to £100 for an annual permit.
The British Motorcyclists Federation had urged motorcyclists across the country to support the legal action.