Warning over 'degrading' Heathrow child detentions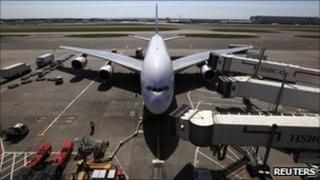 Children are being held overnight in "degrading" conditions at Heathrow Airport, a watchdog has warned.
The airport independent monitoring board (IMB) said facilities at the airport were "wholly unsuitable".
"The UK Border Agency (UKBA) has again failed in its duty to treat everyone in its care in Heathrow holding rooms with decency," the watchdog's report said.
But the UKBA said: "The welfare of children within our immigration system is an absolute priority."
The airport's detention rooms had poor ventilation, no natural light, and inadequate washing facilities, the report said.
In 2010, more than 15,000 people, many of them children, were detained by immigration staff at the airport, according to the watchdog.
'Unacceptable' conditions
The lack of progress since the "degrading" conditions were highlighted in 2010 was "unacceptable on grounds of humanity", the watchdog said.
"In our last report we drew attention to the wholly unsuitable conditions in which men, women and children were held.
"There has been no change: they are still held in these conditions and still for too long. Lack of change is unacceptable on grounds of humanity."
It called for Home Secretary Theresa May to ensure that families are no longer detained in non-custodial accommodation with "decent facilities", rather than in holding rooms.
But David Wood, the UKBA's strategic director for criminality and detention, said: "The government committed to ending the detention of children for immigration purposes.
"Checks are necessary to secure the UK border at points of entry, as well as to meet our obligation to safeguard the welfare of children, especially if trafficking or other forms of abuse are suspected."