Single lane of M1 reopens after major fire caused havoc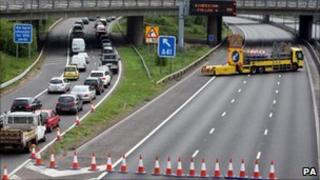 One lane of the northbound M1 has reopened after being closed for more than 36 hours following a fire, the Highways Agency have said.
The motorway had been closed in both directions between junctions one and four since 0410 BST on Friday.
The Highways Agency had hoped to open one lane by the end of the FA Cup semi-final at nearby Wembley Stadium.
The southbound section will remain shut "until it is safe to be reopened", the agency added.
Spokesman John Cauldwell said the aim was to get vehicles flowing in both directions by Monday morning when traffic is at its peak.
FA Cup semi-final
The motorway closure led to delays on Saturday on the A1, A40 and A406 as motorists took alternative routes, AA Roadwatch said.
The closure coincided with one of the biggest weekends in the capital's sporting calendar, with Wembley hosting two FA Cup semi-finals and the London Marathon on Sunday.
About 40 firefighters were called to tackle the blaze, which broke out at a scrapyard site close to Scratchwood Services and Ellesmere Avenue in Mill Hill on Friday.
A number of gas cylinders were involved and a hazard zone was set up in case they exploded in the heat, London Fire Brigade said.
About 50 people living in properties near the scrapyard were temporarily evacuated as a precaution while the cylinders, some of which were acetylene, were cooled and made safe.
Train lines close to the scene were also shut down.
Highways Agency engineers have been given access to the site of the fire underneath the motorway to assess the extent of the damage.
Motorists have been advised to check the Highways Agency website for the latest traffic information.