Kissing men 'should have left Soho pub after warning'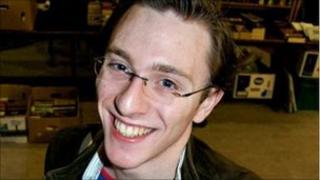 A gay couple who say they were removed from a pub after kissing should have left earlier after being told to stop, a former LVA boss has claimed.
James Bull and Jonathan Williams said they were thrown out of the John Snow on Broadwick Street in London's Soho.
Mr Williams, 26, said they were kissing but it "wasn't anything indecent".
But Daniel Griffiths, ex-president of the Federation of Licensed Victuallers Associations, said: "If he doesn't like the house rules, don't use the pub."
Mr Bull, 23, said a man claiming to be the pub's landlord first objected to their kissing shortly after 2145 BST on Wednesday, but they were asked to leave an hour later after a "quick peck on the lips".
'Orderly fashion'
The John Snow pub and Samuel Smith's brewery, which owns the central London venue, have not commented on the incident.
Mr Griffiths, owner of the Miners Rest in Barnsley, said every pub landlord was free to make in-house rules which show "respect to the rest of the clientele".
He said: "From a personal point of view, whether they were gay, whether they were lesbians or whether they were heterosexuals, I would still have thrown them out.
"It's very, very hard times and we have got to keep as many people in the pub [as possible].
"We make the house rules and we stand by those house rules. If he doesn't like the house rules, don't use the pub."
He added: "When he was asked at quarter to 10 to leave or to stop doing it, if he intended to carry on he should have left them premises, in an orderly fashion, and gone to premises where the matter is accepted and stayed there."
Mr Williams said: "We had been kissing but my hands and James's hands were above the table so I don't think it's really a problem.
"Should I be stopped from kissing my partner in public just because I am not in a supposedly gay area?
"That is just utterly wrong, surely. We shouldn't ghettoise people.
"If they want us out then there's a better way of doing it and a polite way of doing it and a way that doesn't make us feel like we have just been kicked out purely for being gay."
The Metropolitan Police is investigating the incident.
Meanwhile, hundreds of gay rights' protesters are planning a "kiss-in" at the pub in response to the alleged ejection.
More than 700 people said they would attend the demonstration, mobilised on Facebook, on Friday evening.