Gay couple 'removed from Soho pub for kissing'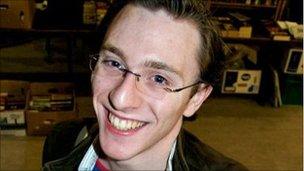 A man has told of how he was ordered to leave a central London pub after a staff member objected to him kissing a man he was on a date with.
James Bull, 23, said he and Jonathan Williams, 26, were thrown out of the John Snow on Broadwick Street, Soho.
Mr Bull said he was "shaking" after a woman claiming to be the pub's landlady removed them for being "obscene".
The Metropolitan Police are investigating the incident, while the John Snow pub is yet to comment.
Samuel Smith's brewery, the owner of the pub, declined to comment on the incident.
"I felt belittled. I felt physically sick and we were both shaking," said Mr Bull, a charity worker from Kentish Town in north London.
"It made me feel dirty. I've never experienced anything like this before."
Mr Bull said a man claiming to be the pub's landlord first objected to their kissing shortly after 2145 BST.
"We were kissing and a guy who claimed to be the landlord came over and told us to stop. I don't want to see that. It offends me," he said.
"We had just kissed. It was nothing obscene. He said if we didn't tone it down, we would have to leave.
"We were going to finish our drinks and leave but another person at the bar said the man had no right to do that."
Jamie Morton, 23, from Canary Wharf, who witnessed the incident, said: "I was really shocked. I said: 'That's outrageous - you can't say that.'"
Mr Bull said: "We had another drink and, getting up to leave, I gave Jonathan a quick peck on the lips."
"A woman claiming to be the landlady came over and said: 'You need to leave, you're being obscene.'"
"The man who said he was the landlord grabbed Jonathan by the collar before we left."
Mr Morton said: "It was shocking and aggressive. There was a lot of venom and anger inflicted on these polite guys who were genuinely doing nothing wrong at all."
A Metropolitan Police spokesman said: "Police are investigating an incident which occurred at approximately 2250 BST on Wednesday at a venue in Broadwick Street, W1.
"There have been no arrests and inquiries are ongoing."
Related Internet Links
The BBC is not responsible for the content of external sites.