M1 closure affects FA Cup semis and London Marathon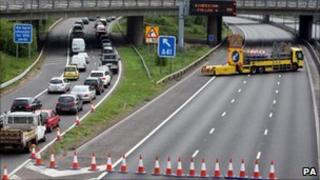 The M1 is to remain closed for several more hours as thousands of people head to London for one of the biggest weekends in the sporting calendar.
The motorway has been shut both ways between junctions one and four, between Brent Cross and Elstree, Hertfordshire, since Friday after a scrapyard fire.
The capital is hosting two FA Cup semi-finals and the London Marathon.
The Highways Agency said it hoped to open one northbound lane by the end of the match at Wembley at about 1900 BST.
Southbound will remain closed until they know it is safe.
Motorists are advised to avoid the M1 and continue to use alternative routes and a clearly signed diversion which can be found on the Highways Agency website.
Drivers who planned to use the M1 were rerouted on to the M6, where traffic has been building up, and the M40.
Runners' accreditations
The fire, which involved some gas cylinders, broke out near to Scratchwood Services at 0410 BST on Friday.
London Fire Brigade said about 50 people living in properties near the scrapyard were evacuated as a precaution while the cylinders were cooled and made safe.
Engineers have been given access to the site of the fire underneath the motorway and are checking the seven-mile stretch of road to ensure it had not been damaged by the blaze.
Fans travelling to Wembley for the FA Cup semi-final between Manchester City and Manchester United were advised to find an alternative route or means of travelling.
Aston Villa supporters have also been travelling to London, to watch their team's Premier League match at West Ham United.
And Chelsea fans travelled from the capital to their team's game at West Bromwich Albion.
Extra services
On Sunday, along with the London Marathon, thousands of fans are expected at the 90,000-capacity Wembley Stadium for another FA Cup semi-final involving Bolton Wanderers and Stoke City.
Marathon runners have to collect their accreditations at Excel in east London by 1700 BST on Saturday.
However, London's police and transport network chiefs have said they are ready to deal with the thousands of extra people who make it to the capital.
Virgin Trains has put on extra services between London and Manchester, which will be held at Euston railway station if the game goes to extra time.
Meanwhile, Transport for London has vowed to "keep London running" despite disruptions caused by the marathon.
About 36,000 runners will take part in Sunday's marathon, with thousands more people expected to line the streets.
The marathon is also creating unique issues for both the transport network and the police, with road closures and disruptions to bus, train and Tube services.
The elite women's and wheelchair races start from Greenwich Park at 0900 BST, followed by the elite men and all other runners from 0945 BST.