Q&A: How to get around on London Marathon day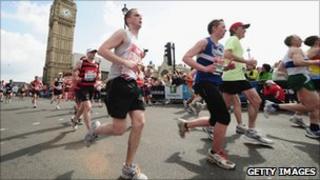 More than 30,000 runners will pound the streets for the the Virgin London Marathon on Sunday with hundreds of thousands of spectators along the 26.2 mile (42.2km) route.
Roads along the route and approaches will close at either 0700 or 0800 BST on the day, with a staged reopening as runners pass through.
The first roads will reopen from 1200 BST.
As a general rule, most roads south of the river will open by 1400 BST and by 1900 BST to the north.
Public transport will be free to race runners and officials on the Tube and Docklands Light Railway (DLR) until 1700 BST - as long as you show your tabard or race number.
St John Ambulance staff can also travel free on the day.
What roads will be closed?
Between 0700 BST and1400 BST:
Charlton Way, Shooters Hill Road, Charlton Road, Little Heath, Charlton Park Lane, Artillery Place, John Wilson Street, Woolwich Church Street, Woolwich Road, Trafalgar Road, Creek Road, Evelyn Street (from 0800).
Between 0800 BST and 1600 BST:
Surrey Quays Road, Salter Road, Brunel Road, Jamaica Road.
Between 0800 BST and1900 BST:
Tower Bridge, The Highway, Narrow Street, Westferry Road, Westferry Road, East Ferry Road, Marsh Wall, North Colonnade, Poplar High Street, Commercial Road, Byward Street, Upper Thames Street.
Between 0700 BST and 1900 BST:
Victoria Embankment and Birdcage Walk.
Will buses still run?
Routes will be diverted or will stop short while the marathon is ongoing. Here are the routes affected:
1, 3, 11, 12, 15, 24, 25, 29, 42, 47, 51, 53, 54, 78, 87, 88, 89, 91, 96, 99, 100, 108, 115, 122, 129, 132, 148, 159, 161, 177, 178, 180, 188, 199, 202, 211, 225, 244, 277, 286, 291, 341, 343, 344, 380, 381, 386, 388, 422, 453, 469, 472, 486, C10, D3, D6, D7, D8, P12, and RV1
Latest information on the buses
How is the Tube looking for Sunday?
Here are the closures that will affect you on race day:
There will be no service on the Central line between Marble Arch, West Ruislip and Ealing Broadway. There will be no service on the Waterloo & City line.
Latest information on the Tube
Will the DLR run extra services?
Yes. An enhanced service will run throughout the weekend with trains on Sunday beginning at 0530 BST from Tower Gateway and Lewisham.
Services during the marathon will operate as frequently as every 2½ minutes on the busiest sections of the route.
From 1600 BST, a normal Sunday service will operate until close of play at around 2330 BST.
Latest information on the Docklands Light Railway
Can I use the River Thames to get around?
You can board a river bus at Greenwich to Canary Wharf, Tower Millennium, London Bridge or Embankment Piers.
Latest information on river services
Any advice for spectators?
If you are planning to watch the race, there is severely restricted access to Cutty Sark because of ongoing restoration work.
Also, while the Greenwich Foot Tunnel is open, the lifts will not be working as refurbishment continues.
A free river boat shuttle service will run every 20 minutes between Greenwich and Canary Wharf between 1030 BST and 1230 BST.
Follow travel updates on the day by tuning to BBC London 94.9 and on our Twitter feed.