Noel Bresland runs charity marathon in London Eye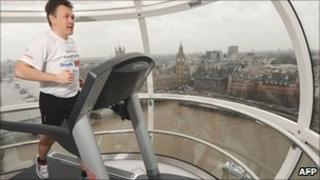 A man has completed a marathon inside a capsule of the London Eye.
Noel Bresland, 34, from Manchester, ran the equivalent of the 26.2-mile (42.2km) course on a treadmill in a time of three hours and 51 minutes.
He was raising money for two charities - Children with Leukaemia and Bliss - as part of an attempt to finish 223 marathons in 10 years.
He set himself the challenge after his nephew Ethan, who was born prematurely, died at the age of 223 days.
So far he has run 30 marathon-length courses and has raised nearly £25,000.
"I am determined to reach my ultimate goal of 223 marathons," Mr Bresland said.
"You haven't seen the last of me, as having overcome my fear of heights, we are now developing plans for a marathon in a plane and hot air balloon.
"Only 193 marathons left to go," he added.
Mr Bresland is planning to run the London Marathon dressed as Little Miss Naughty later this month.