Danny Baker back at BBC radio after cancer treatment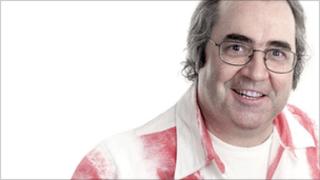 The radio presenter Danny Baker, who was diagnosed with cancer last year, is to return to work later this month.
He said he would appear on BBC London 94.9 from 18 April "unless the medics make some last-gasp cruel objection".
"I realise this will reduce Steve Wright's overall audience figures by more than 300, but it's a tough game we're in, Steve," he quipped, referring to BBC Radio 2's rival afternoon show.
BBC Radio 5 Live said it hoped he would resume his show there in late May.
He had been hosting a two-hour programme each Saturday, in addition to his afternoon weekday BBC London 94.9 shows.
Award nomination
The 53-year-old's career has included extensive TV work, including as a presenter on LWT's The Six O'Clock Show and his own chat show on BBC One.
He was also a music journalist for New Musical Express.
He has been nominated for speech radio personality of the year at the Sony Radio Awards, which take place in London on 9 May.
Baker received the cancer diagnosis last autumn and said in November he would be off-air while he received treatment.
In a light-hearted message to fans, he said he had been watching "dubious" DVDs last week when he realised "things could not go on like this forever, sweet though the living was".
"What was I doing with my life?" he joked.
He said he intended to "un-retire again" and would be back on 18 April to "give it another go".