Whole life term for canal killer John Sweeney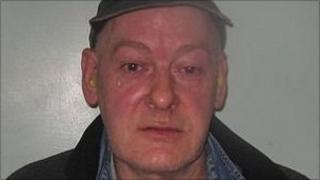 A man who murdered two women whose bodies were found mutilated and dumped in canals in London and the Netherlands will die in jail, a judge has ruled.
John Sweeney, 54, of no fixed address, had denied murdering Paula Fields, 31, and 33-year-old Melissa Halstead.
Ms Halstead's body was found in a Rotterdam canal in 1990. Miss Fields was found in Regent's Canal in 2001.
The Old Bailey ordered Sweeney, originally from Merseyside, to serve a whole-life tariff.
Judge Mr Justice Saunders said: "These were terrible, wicked crimes.
"The heads of the victims having been removed, it is impossible to be certain how they were killed.
"The mutilation of the bodies is a serious aggravating feature of the murders."
He explained: "Not only does it reveal the cold-blooded nature of the killer, but it has added greatly to the distress of the families to know that parts of the bodies of their loved ones have never been recovered.
"Why the killings occurred, I cannot be sure, but I am satisfied that this defendant is controlling in his relationships with women and, chillingly, that control extends to deciding whether they should live or die."
In conclusion, he said: "I have no doubt that the seriousness of these offences is exceptionally high and a whole life order is the appropriate sentence."
He added that he was not considering an early release provision.
Sweeney received a further 10-year sentence for perverting the course of justice.
The two murders were linked in February 2010 and Liverpool-born Sweeney was arrested at Gartree Prison in Leicestershire, where he was serving life for an axe attack on another former girlfriend.
In a statement read out following the verdict at the Old Bailey on Monday, Ms Halstead's family said they hoped that Sweeney would "never be allowed free to carry out such crimes again".
Sweeney was said to have a hatred of women and turned violent when they tried to reject him.
In addition to the two murders, he also launched an axe attack on ex-girlfriend, nurse Delia Balmer, who was only saved when a neighbour arrived to help.
Detectives had found several weapons and 300 pieces of gruesome artwork and poems in his north London house.
Several other artworks were also found in his prison cell in Gartree Prison when he was arrested for the two murders in 2010.
The Metropolitan Police (Met) said the force was still trying to trace three unidentified women who have not been seen for several years. Detectives believe they may have been ex-girlfriends of Sweeney.
Det Ch Insp Howard Groves, who led the investigation, said: "As he contemplates a life behind bars, I can assure him that this investigation will continue as we seek to identify and trace other potential victims in the UK, Netherlands and elsewhere in Europe, who may have suffered a similar fate to that of Melissa and Paula."
Met detectives said they were appealing for information to trace three women:
A woman, believed to be Brazilian, called Irani who frequented the north London area in 1996-97. At that time she was believed to be in her mid-40s. She was known to visit pubs and restaurants in the Highbury and Holloway Road areas and is believed to have worked in kitchens as a cleaner.
A woman, thought to be Colombian, called Maria who frequented the north London area in 1997-98. At that time she was believed to be in her mid-30s. She was often seen in pubs and restaurants in the Finsbury Park and Holloway Road areas.
A woman, thought to be English and from Derbyshire, called Sue. She was aged in her late 20s or early 30s in the late 1970s and early 80s. She spent time in the Holloway Road, and Seven Sisters areas of north London. She possibly attended a nursing college and went to Switzerland to work.