MPs express anger in Commons on plans to curb protests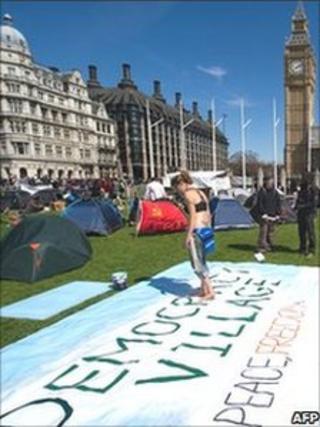 MPs across the political spectrum have condemned plans to clamp down on protests outside Parliament.
The changes would stop demonstrators camping on Parliament Square and from using loud hailers.
Labour MP John McDonnell said the changes were an attempt to undermine human rights.
The right to protest was more important than keeping Parliament clean for the royal wedding said Conservative MP Simon Hart.
The comments from angry MPs came as the Commons was debating changes to the Police Reform and Social Responsibility Bill.
Mr McDonnell, MP for Hayes and Harlington, is a supporter of anti-war campaigner Brian Haw who fought a long-running legal battle to prevent his eviction from the square.
"I think it impedes peaceful protest," said Mr McDonnell, of the proposed changes to the law.
He claimed it could "degenerate into an unworkable and unmanageable farce".
The possibility of a £5,000 fine under the new proposal was "draconian and well over the top," he said.
On the other side of the house, Simon Hart, the Tory MP for Carmarthen West and South Pembrokeshire, said the MPs' decision would have profound consequences and people should be allowed to "make their feelings heard."
"If that happens to coincide with the royal wedding then I would say their right to protest is far more important," he said.
Paul Flynn, Labour MP for Newport West, paid tribute to Brian Haw, who "deserves our admiration" and said the "right to protest is something that is honourable."
Junior Home Office minister James Brokenshire said the encampment in Parliament Square had caused "significant damage to the garden and that space."
He said the new measures would not stop people protesting in the square but was "aimed at preventing encampments and dealing with disruptive activity ."