Museum of London collecting cuts protest placards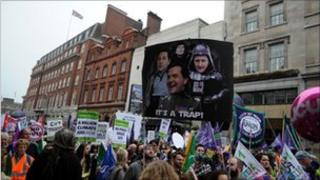 The Museum of London is collecting placards and flags used by protesters at the recent demonstration against public spending cuts.
Students from Goldsmiths university, south-east London, gathered hundreds of items at the march.
Now protesters are being asked to bring more memorabilia for the museum's collection on Saturday.
Organiser Guy Atkins said the idea was to give demonstrators the chance to influence how history remembers them.
The main demonstration on 26 March passed off peacefully, but a small group broke off and attacked banks and shops, leading to 214 arrests and 16 people injured, including 13 police.
June Purvis, a historian who wrote a biography about suffragette Emmeline Pankhurst, said the protest would be remembered as a significant moment in the country's history.
"The fact that 250,000 people came out shows the extent of public feeling," she said. "But I think it was marred by the violence of the anarchists."
The Goldsmiths students also gave out more than 1,000 placards with images of posters used in suffragettes' and poll tax protests at the event.
The Museum of London's chief curator, Dr Cathy Ross, said there would eventually be an exhibition showcasing the collection.
"The signs are quite individual, not just standard slogans," she said.
"We think it was good that the people on the march decide what we collect."