Brick Lane named 2012 Olympics Curry Capital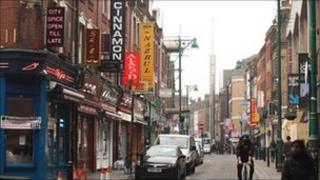 An east London area famed for its curry houses has been named as Curry Capital 2012 by Olympics organisers.
The title is aimed at giving publicity to Brick Lane in Tower Hamlets, an Olympic borough which lost the 2012 marathons to central London.
London 2012's pledge to support local businesses and generate employment led the council to drop legal proceedings over changing the marathon route.
Tower Hamlets mayor Lutfur Rahman said the area "embodies the Olympic spirit".
London 2012 chairman Lord Seb Coe took some International Olympic Committee officials to see the culinary heritage of Brick Lane during their latest inspection of preparations.
Mr Rahman said: "Like all of Tower Hamlets, Brick Lane is such a vibrant area and in many ways its history embodies the Olympic spirit: triumphing over adversity, welcoming new cultures and providing first-class entertainment."
Lord Coe said the Games would bring "lasting benefits to the East End and beyond".
Marathon route row
He said: "It also includes supporting local businesses, and making Banglatown and Brick Lane the curry capital for London 2012 is part of our commitment to make that vision a reality."
The original 2012 marathon route was to begin at Tower Bridge and end at the Olympic Stadium in Stratford, taking in most of Tower Hamlets and the East End.
But in October organisers changed the route to cover central London landmarks like the Buckingham Palace, Birdcage Walk, St Paul's Cathedral and the Houses of Parliament.
London 2012 gave operational issues as the reason behind the change but many local leaders in Tower Hamlets saw it as a "betrayal" and decided to seek a judicial review in November.
But they dropped the legal bid last month after London 2012 promised concessions, including offering schoolchildren free tickets to the Olympics and priority access to 1,000 jobs for local residents.