London 2012 Olympics: Tube to shut hour later, TfL says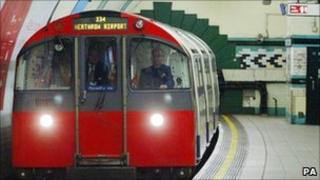 The Tube will close an hour later than usual during the 2012 Olympics, Transport for London (TfL) has said.
Under the temporary timetable, the last train will leave London at about 0200 BST during the tournament.
Extra trains will run from east London late in the evening to transport spectators around the city.
TfL said: "We do not currently expect the Tube to operate 24 hours during the Games, although it is still a possibility for the Opening Ceremony."
'Not required'
A TfL spokesman said: "To ensure everyone can get to and from their events, and enjoy all that London has to offer in 2012, we plan to run the Tube around an hour later than normal during the games on all lines.
"This means customers will be able to leave the Olympic Park to connect with other services to get them home after the events."
Only weeks ago it emerged Tube bosses were considering a 24-hour service during the games, a prospect which now seems unlikely.
The TfL spokesman said: "Running 24 hours a day for a prolonged period presents obvious issues in terms of allowing time for the maintenance and upkeep of trains and track."
He added that a round-the-clock service was also "not required" as events finished long before the last train services.
Earlier this month it was revealed TfL had established a working party to plan staffing for the around-the-clock scheme.
But the RMT union, which had been locked in dispute with TfL over job losses, had warned them to expect a battle about overtime pay for night staff.