Keats love letter to London neighbour sold for £96K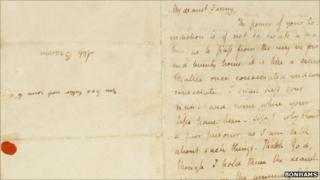 A love letter written by poet John Keats to his neighbour in London before his death from TB at the age of 25 has been auctioned for £96,000.
The 1820 letter was written to Fanny Brawne, who lived next door to him in Hampstead, north London.
Keats said he was a "poor prisoner" as his love was never consummated due to his disease.
The City of London Corporation said it bought the letter at Bonhams with the support of the Heritage Lottery Fund.
The corporation plans to put the love letter on display at Keats House, the Regency villa in Hampstead where the poet lived from 1818 until 1820.
'Poor prisoner'
His famous piece - an Ode To A Nightingale - was written in the garden.
The poet died in Rome in February 1821 and Fanny Brawne's letters to Keats were buried with him.
In the letter, Keats wrote: "I shall Kiss your name and mine where your Lips have been - Lips! why should a poor prisoner as I am talk about such things."
He said his "consolation" was "in the certainty of your affectation".
The words, "You had better not come today," were scribbled on the outside.
Michael Welbank, chairman of the Keats House management committee at the City of London Corporation, said: "We are absolutely delighted that our bid was successful.
"Keats is a hugely important part of our cultural landscape, and it is thrilling to know that we will now be able to display the letter where it was written."
Sue Bowers, head of the Heritage Lottery Fund for London, said: "This acquisition not only saves the letter for future generations to enjoy, but will also brings the letter back home to the place where it was written nearly 200 years ago."