Killed boy 'kicked in head' in Victoria station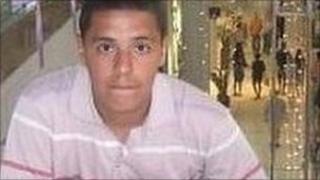 A 15-year-old boy who was chased and stabbed at Victoria station was "kicked in the head" by a teenager as he fell down the stairs, the Old Bailey heard.
Sofyen Belamouadden, of Acton, west London, was chased from the concourse and into the Tube ticket hall.
Samuel Roberts, 18, from Camberwell, said he joined in the attack on Sofyen as "everyone else was doing it".
Mr Roberts and six other teenagers deny murdering Sofyen in March last year.
Obi Nwokeh, of Bermondsey, Enoch Amoah, of Camberwell, and Junior Bayode, of Streatham - all aged 18, and three 17-year-old youths who cannot be named for legal reasons, deny murder.
'Only feel shame'
Mr Roberts said he heard about "badness after college" but did not think it would be serious as "fights just happen all the time".
Hearing about trouble he went to the station and saw "a group of boys punching and kicking" the victim. He then kicked Sofyen.
Giving evidence Mr Roberts said: "I honestly don't know why I kicked him in the head.
"I don't know what I was thinking. Having looked back on this I can only feel shame."
"I kicked him. Everyone else was doing it. It was stupid, I don't know what to say," he added.
During a previous hearing the court heard the rush-hour attack on Sofyen was planned on Facebook.
A total of 20 people are accused of Sofyen's murder, with further trials due to take place later in 2011.