Students gather cuts demo placards for Museum of London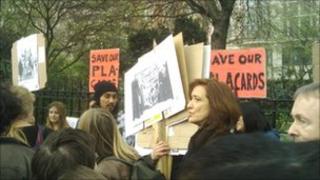 Art students from a London college are asking people marching in the anti-cuts protest to donate placards and costumes for an exhibition.
Goldsmiths students want to showcase Britain's "rich heritage of protests", in the Museum of London.
The stall in Hyde Park will collect memorabilia and also give demonstrators placards with images of posters used in suffragettes' and poll tax protests.
Thousands of people joined the anti-cuts march from Victoria Embankment.
The Trades Union Congress (TUC) was predicting more than 100,000 people would join the demonstration against the coalition government's spending cuts.
Guy Atkins, one of the organisers of the Goldsmiths project, said the project was inspired by recent protests which were "inventive and carnivalesque - from playing Twister on Millbank, to carrying shield-size copies of Karl Marx books".
He said: "Britain has a rich heritage of protests, from the suffragettes, to the poll tax demonstrations, to the Iraq War protests.
"But how these movements are remembered has largely been decided after the event, and not by those involved with the protests. We want to challenge that.
"Saturday's march looks set to be an historic event. It's going to be the biggest protest on London's streets since the Iraq War march in 2003."
Dr Cathy Ross, director of collections and learning at the Museum of London, said: "Although we can't guarantee to take everything that's offered, we are hoping to end up with items that capture the mood and spirit of the day."
On 2 April the museum will also collect memorabilia from participants in the anti-cuts protests.