University College London plans £9,000 tuition fees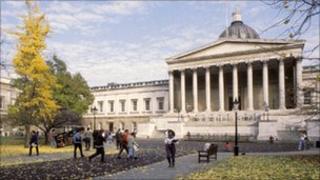 University College London (UCL) plans to increase tuition fees to the maximum level of £9,000 per year from 2012.
The central London university said the increase was necessary to cope with cuts in government teaching grants and to invest in essential facilities.
Full-time EU or UK undergraduates starting at the university in 2011 will be charged £3,375 per year.
The National Union of Students (NUS) has opposed any increase in tuition fees.
It says an increase in tuition could limit access to an elite who could afford it. The has called instead for a graduate tax.
'Essential facilities'
UCL president Malcolm Grant said: "We want to continue to attract to UCL those students with the greatest ability to benefit from membership of an intellectually demanding institution.
"We want to provide them with an outstanding education, enriched by UCL's powerful research base. We need to maintain financial sustainability.
"The proposed fee level will help us recover from the loss of government grant and allow an appropriate level of investment to maintain and enhance our high standards, our libraries, teaching laboratories and other essential facilities."
The proposal has yet to be agreed by the Office for Fair Access.
So far, the universities of Oxford, Durham, Imperial College, Exeter, Essex, Manchester, Surrey, Warwick and Aston have said they want to charge the maximum yearly tuition fee.
On Thursday, Bishop Grosseteste University College in Lincoln became the first university in England to announce planned tuition fees for 2012 below the £9,000 maximum - saying it intends to charge £7,500 for BA courses.