Charing Cross Tube reopens after Trafalgar Square flood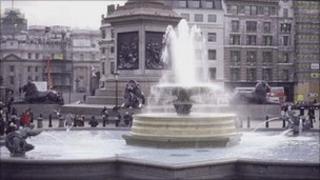 Two fountains overflowed in London's Trafalgar Square, leading to an eight-hour closure of the Tube station underneath them.
Water seeped into the pump room for the fountains, which is below Charing Cross station, at about 1015 GMT on Thursday.
Services have resumed on the Northern Line and on the Bakerloo Line, which was suspended through central London but has now reopened with delays.
Traffic lights failed around the square when power was lost.
The Greater London Authority, which is responsible for the square and its fountains, said: "Our contractors were carrying out preliminary work to the Trafalgar Square fountains' pumping system, which is over 40 years old, ahead of a planned upgrade.
"A fault occurred in the pumping system during testing, resulting in the flooding of the pump room and power substation based at Charing Cross Underground Station.
"We are urgently investigating the cause of the fault."
The extent of the damage to the substation is not yet known.
Transport for London confirmed that flooding from outside the station "caused problems on the Bakerloo Line platforms and with escalator machinery".
"London Fire Brigade have attended the station after the water ingress led to smoke coming from the station's machine rooms," a spokesman said.