Lloyd Scott to crawl London Marathon in snail costume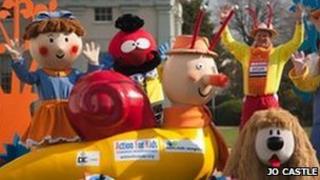 A man who once ran the London Marathon in a deep sea diving suit will take 26 days to finish this year's race dressed as a snail.
Lloyd Scott, 49, will crawl the 26-mile course, which starts on 17 April, at about one mile per day dressed as Magic Roundabout character Brian the Snail.
The former professional footballer said he hoped to raise at least £200,000 for children's charity Action for Kids.
He has raised more than £5 million for charity by running marathons.
Mr Scott famously took five days to complete the 2002 London Marathon in a deep sea diving suit. He has also cycled across Australia on a penny-farthing.
But Mr Scott, who was awarded an MBE in 2005 for his charity work, said he expects this year's challenge to be one of his hardest.
"It's going to be a slow and painful process," he said.
"There is a sledge inside the outfit and I will drag myself around with my arms.
"Training has been very difficult. I have been using rowing and skiing machines to strengthen my arms."
Mr Scott will be accompanied around the course by other characters from the Magic Roundabout including Florence, Dylan and Zebedee.
The former Blackpool, Watford and Leyton Orient player fought off leukaemia more than 20 years ago.