Census bus begins tour of London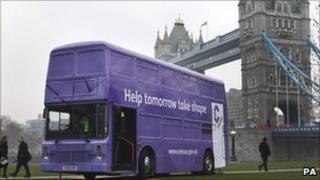 A purple double-decker bus, which has become the symbol of the 2011 Census, will begin its tour of the capital to assist Londoners to fill in the form.
Setting off from Church Street Market in Westminster, the bus will visit nine boroughs in London until 3 April.
The bus will visit Barking and Dagenham, Hammersmith and Fulham, Greenwich, Kingston, Merton, Kensington & Chelsea, Hillingdon and Wandsworth.
The team will include people speaking languages prevalent in these areas.
Residents will be offered help with filling in the form and will be provided with new questionnaires if needed.
Glen Watson, ONS Census director, commented: "While most people will be able to complete their census questionnaires without assistance, some may require clarification on how to answer some of the questions."
The national Census Day is on 27 March.