Residents urged to use blog about Chase Farm Hospital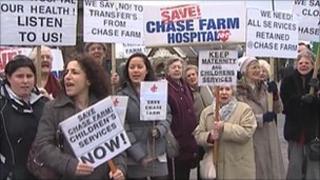 Enfield residents, GPs and interest groups are being invited to share their views about the future of Chase Farm Hospital on an interactive blog.
A public meeting has also been arranged on 28 March at Kingsmead School, in Enfield, for people to make their voices about the hospital heard.
On 10 March, Secretary of State for Health Andrew Lansley set a deadline of 7 April for views and ideas.
The interactive blog has been launched by Enfield Local Involvement Network.
In September 2008, the then Labour government gave the go-ahead to close accident and emergency services at Chase Farm Hospital.
The plan led to protests from residents, local MPs, councillors and the Save Chase Farm campaign group.
At a meeting on 11 March, Mr Lansley gave the council and local campaigners a month to come up with an alternative to the closure plan.
Leader of the Labour-run Enfield Council, Councillor Doug Taylor said: "We are helping local people to respond to the challenge set by Andrew Lansley so that we can champion their views.
"The blog will give them the opportunity to offer fresh ideas, opinions and concrete suggestions for the way forward."
Comments will be analysed and reported back to the secretary of state who will make the final decision on the future of hospital services.
Tickets for the public meeting must be booked in advance.
The Enfield Link is an independent body of individuals and community groups who work together to improve local services.