London heritage schemes secure £2m investment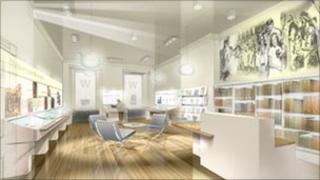 Six projects celebrating London's heritage have been awarded a share of more than £2m of lottery money.
The restoration of Upminster chapel in Havering, east London, has been awarded a £670,000 grant.
Meanwhile a central London library which holds the most extensive archive on the Holocaust and Nazi era in the UK has been given £475,000 of funding.
Sue Bowers, of the Heritage Lottery Fund, said these projects were vital to understanding our heritage.
The Wiener Library Institute of Contemporary History contains more than two million items including books, documents, photographs and eye witness accounts about the Holocaust and Nazi era in the UK.
It is moving to Russell Square in the summer and the money will enable greater public access to the resource.
Hidden histories
Mapping the Change, a scheme that will document the heritage and stories of East End communities living on the Olympic Park site throughout its construction, was given £293,200.
And a project that will record the untold stories of Chinatown's first settlers in 1950s Soho was awarded £193,000.
A project that focuses on the experiences of disabled people in 20th Century education and one that examines the role of workers in industries previously occupying the Olympic site were also given money.
Ms Bowers said: "There are countless hidden histories across the capital that play a vital part in our understanding of our heritage.
"At an exciting time when East End boroughs are watching the changes around them as the Olympic Park takes shape, we must not forget the stories of people who have lived their lives on this site for many years before.
"Similarly, we can help those organisations that act as memory-keepers for periods in history such as the Holocaust, that without funding, may be lost forever."