Thames cable car linking O2 arena and Excel approved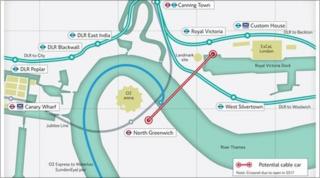 A planned cable car above the River Thames in London has been given the final clearance by the Greater London Authority (GLA).
The crossing will link two 2012 Olympic venues, the O2 arena in Greenwich with the Excel exhibition centre in the Royal Docks in east London.
Mayor Boris Johnson said the scheme was "as good as a bus route with 30 buses on it", carrying 2,500 people an hour.
When completed in two years, cable cars will run 50m (164ft) above the river.
It was hoped project would cost £25m and would be completed by July 2012, in time for the Games.
But in December the London Development Agency warned that the cost could go up to £40m and construction may not begin until early 2012.
Greenwich and Newham councils and the London Thames Gateway Development Corporation have already approved the scheme.
Mr Johnson, said: "With permissions signed and sealed we are now a significant step closer to being able to cruise the east London skyline via an elegant cable car spanning the mighty Thames.
"It will be a truly exhilarating way for Londoners and visitors to explore our great city whilst providing a much-needed river crossing to support the once-in-a-lifetime regeneration of this easterly quarter of the capital."
Before giving its assent the GLA studied the location of the project near London City Airport and considered the concerns raised about aircrafts in the proximity of the cable cars. It found there was an "extremely low risk" of incidents.
A contractor for the project will be appointed this spring and discussions for funding were ongoing, the GLA said.