Night Stalker's campaign is 'stuff of nightmares'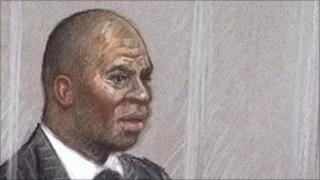 The Night Stalker rapist's campaign of attacks on elderly people is the "stuff of nightmares", a court has heard.
Prosecutor Jonathan Laidlaw QC said the motivation behind Delroy Grant's alleged rapes and burglaries in south London was difficult to understand.
In his closing speech he told Woolwich Crown Court Mr Grant's defence that his ex-wife framed him "defies belief".
Mr Grant, 53, of Honor Oak in south London, denies a series of rapes and sex assaults between 1992 and 2009.
He is alleged to have targeted a total of 18 victims in their homes between 1992 and 2009. He denies 29 charges against him.
Summing up the case for the prosecution Mr Laidlaw said the series of attacks was "highly-skilled" and "really is the stuff of nightmares and the sort of case which keeps us all awake at night".
During the trial Mr Grant claimed his ex-wife Janet Watson stored his semen for 15 years before planting his DNA on a string of burglary victims out of "malice" and "hatred".
'Deeply-flawed nature'
Mr Laidlaw earlier described this defence as "laughable" and a "complete fabrication from start to finish".
He told jurors: "If you decide this defendant is the person responsible for these attacks, then his approach to this trial is a further demonstration of his arrogance and deeply-flawed nature."
Mr Grant never considered the impact his torment would have on his victims, Mr Laidlaw said.
He said: "In the last years of their lives, did he ever stop to think about their families? The answer is never, he did not.
"What could have motivated the perpetrator to commit these offences is difficult, if not impossible, to understand by normal standards."
During cross-examination Mr Laidlaw accused Mr Grant of being a fantasist who would "stoop to any level" to avoid prosecution.
But Mr Grant denied having a "complete inability" to face up to his crimes and said: "For what reason would anyone want to rape old women?"
Judge Peter Rook QC told jurors he was likely to send them out to consider their verdicts on Monday.
The case was adjourned until Friday.