Night Stalker accused denies 'fantasist' claims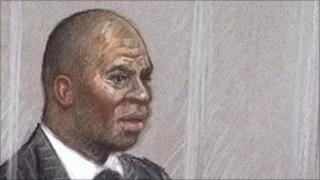 A man accused of being the Night Stalker rapist has denied claims he was a fantasist who would "stoop to any level" to avoid prosecution.
Delroy Grant was told his defence was "laughable" and a "complete fabrication from start to finish" as he was cross-examined at Woolwich Crown Court.
He asked the court: "For what reason would anyone want to rape old women?"
Mr Grant, 53, of Honor Oak in south London, denies a series of rapes and sex assaults between 1992 and 2009.
The defendant denied claims he had a "complete inability" to face up to his alleged crimes, during questioning by Jonathan Laidlaw QC.
'Needs help'
Mr Laidlaw told Mr Grant: "We are already beginning to see that your account falls apart when it is subjected to the most gentle of examinations."
On Wednesday, Mr Grant gave his version of events for the first time as he claimed his ex-wife framed him in a 30-year campaign of "malice" and "hatred".
He told the court: "My DNA was planted by someone else."
He said Janet Watson, 53, stored his semen and saliva for 15 years before planting his DNA on a string of burglary victims.
But Ms Watson said those claims were "unbelievable".
She told the court: "He needs help... I do not know what is wrong with him."
In court on Thursday Mr Laidlaw said: "If these charges were not so grave, this could be almost laughable as an account."
Mr Grant replied: "I have no idea."
He denied telling officers there was no point taking his fingerprints "as he always wore gloves" and said a crowbar and fleece found in his car had been planted by Ms Watson and an accomplice.
'Elaborate invention'
Courtenay Griffiths QC, defending, said two officers claimed to have recovered a small torch from his trouser pocket.
Mr Griffiths asked: "Is it the case that these officers lied?"
Mr Grant replied: "Yes".
The defendant said nothing as Mr Laidlaw added: "The idea that Janet Watson, who has already suffered at your hands, was behind this elaborate scheme to frame you is pure fiction and fantasy - an elaborate invention by you from start to finish."
When Mr Laidlaw said Ms Watson was a "thoroughly decent hard-working mother", Grant replied: "I do not accept that."
Previously Mr Laidlaw said: "I want to suggest, Mr Grant, that Ms Watson is not behind these offences at all... She had a bad time in your hands when you were together. Would you agree?"
The defendant replied: "Yes."
When the prosecutor asked him how one of his victims, who said she was kissed by the attacker, had his DNA the defendant said: "It is possible he (Ms Watson's alleged accomplice) knows how to kiss someone and leave someone else's DNA on her face."
Mr Laidlaw replied: "I am going to suggest that there is not even a possibility even if Ms Watson is as wicked as you say she is."
'Burglary kit'
The jury heard he had been wearing two pairs of jeans, three T-shirts and two pairs of underpants on the night of his arrest in 2009.
He said this was because he was helping his lover decorate her kitchen.
When asked about the two pairs of underpants, he added: "I normally do that. I wear boxer shorts and a tighter pair.
"Not like some men walking about in one pair, hanging about. I do not like to see that."
Mr Laidlaw said the outfit was a "burglary kit" enabling Mr Grant to quickly change appearance to avoid detection by CCTV cameras at cash machines.
"You had become a very sophisticated burglar by this stage," Mr Laidlaw said.
The jury saw CCTV footage of the defendant arriving at the police station and officers questioning him.
When asked why he signed a form listing the items found on him, Mr Grant said it was "just a blank piece of paper".
"I would have signed to be shot that night."
Mr Grant is alleged to have targeted a total of 18 victims in their homes between 1992 and 2009.
He denies 29 charges against him.
The case continues.