Killed politician Imran Farooq 'watched' before stabbing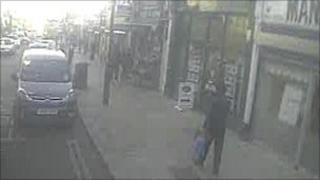 A Pakistani politician stabbed to death in north-west London may have been followed on the day of the attack, the Metropolitan Police have said.
Dr Imran Farooq, 50, a senior member of MQM, may have been followed by up to four Asian men in vehicles or on foot.
He was stabbed close to his home in Green Lane, Edgware, on 16 September.
The Met have released CCTV images of his final hours, including an image showing him walking along Station Road 10 minutes before the attack.
Dr Farooq, who had come to Britain in 1999 seeking political asylum, was found with stab wounds and head injuries after the attack six months ago.
Vehicles seen
A silver-coloured seven-seater and a dark-coloured moped or scooter were seen around and outside the politician's home in Green Lane at the time of the killing, the Met said.
The two-wheeler was also seen in Grove Road on the same day. Following the attack both vehicles drove north up the Green Lane, police believe.
Police believe two kitchen knives - one branded Ausbein Messer with a five inch blade and one branded Schinken Messer with a five-and-a-half inch blade - were used in the attack.
The blades were recovered from the scene and officers believe they come from the same set. A house brick was also used in the fatal attack.
The series of images show Dr Farooq travelling to work on the day of his death.
He was seen entering Edgware underground station, then at a supermarket in Old Street about 40 minutes later.
About an hour before the attack he was seen at Old Street tube station and getting off at Edgware station.
The final images were taken by the CCTV camera on a number 204 bus at 1724 BST as Dr Farooq walked along Station Road. He was attacked about 10 minutes later, police said.
In November a man was arrested on suspicion of murdering the politician but he was later bailed.