Royal wedding: Chuka Umunna concerned over Common bid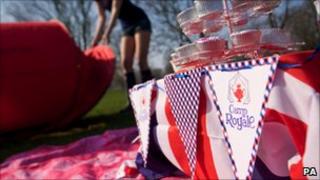 A south London MP has raised concerns about plans for Clapham Common to be turned into a campsite for 10,000 people to celebrate the royal wedding.
Streatham MP Chuka Umunna said a three-day event with camping was unprecedented on the public open space.
A giant television screen and free tea is also planned for the pop-up campsite from 28 April to May 1.
Lambeth Council said the event had not yet been approved but that it had been agreed to "in principle".
Half of Clapham Common, including the site where the event is due to take place, is within Mr Umunna's constituency.
Mr Umunna, a Labour MP, said he had been contacted by constituents who were concerned about the impact of the proposed event on the local area.
He said he would celebrate the royal wedding day, as would many of his constituents, but said he had "deep reservations" about the event.
"It is quite unprecedented for something on this scale to take place over three days on our common, with people camping on it for the duration," he said.
"We do not want to see Clapham Common turned into a Glastonbury-style venue - albeit slightly posher - with all that would involve and the inevitable disruption to the daily lives of my constituents."
The council has agreed in principle to a family event, organised by Camp Royale, to take place on the common with a campsite of 1,806 tents and capacity of 4,000 people.
Councillor Florence Nosegby, Lambeth Council's cabinet member for culture, sport and the 2012 Games, said: "This means that the council is satisfied that the event can be run safely within the council's strict guidelines."
She said the next stage was to discuss the proposal with local residents and elected councillors before a final decision about whether the event can take place.
"If agreed, the campsite would be managed totally separately from any event activity on the common," she said.
She added that all the events that are run on Clapham Common have restrictions on noise levels, health and safety and adhere to all the normal by-laws in force at the park.
One-day festivals such as Ben and Jerry's Summer Sundae and Get Loaded on the Common take place annually on Clapham Common.