G20 pathologist Dr Freddy Patel guilty of misconduct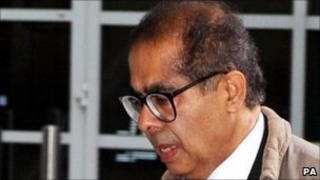 A pathologist criticised over reports into the death of a man at the G20 protests has been found guilty of 29 counts of misconduct in another case.
Dr Freddy Patel failed to properly examine the body of Sally White who was murdered in north London in 2002, the General Medical Council (GMC) found.
Cuts to her liver and bite marks could have been caused naturally, he said.
But a GMC panel ruled he acted dishonestly and in a manner likely to tarnish his profession.
Last year Dr Patel was suspended for three months for sub-standard work in three other cases.
And his decision that newspaper seller Ian Tomlinson had died from natural causes at the G20 demonstration was contradicted by another post-mortem examination which blamed abdominal bleeding.
Bloodstained wall
The latest allegations to be upheld related to Dr Patel's handling of a post-mortem examination on Miss White.
The 31-year-old was murdered by Anthony Hardy.
Miss White's naked body was found in Hardy's flat in Camden.
There were bloodstains on her clothes and the bed, as well as the wall of the room in which she was found.
Dr Patel said injuries, including gashes to her liver and bite marks, could all have come from natural causes and there were no signs she was assaulted.
But the GMC said he had not considered all of the available evidence and failed to weigh up other likely reasons for her death.
The panel decided 29 allegations of misconduct against the pathologist could be proved and he showed "deficient professional performance".
Some allegations were dismissed, however, such as claims that Dr Patel failed to take into account the nature of Miss White's injuries, failed to check for bruising on her body and ignored a witness statement.
The GMC is expected to decide later this week on the action it will take against Dr Patel.